Signing an agreement with Welfare Association to establish AL-Bayara Park with Nablus Image initiative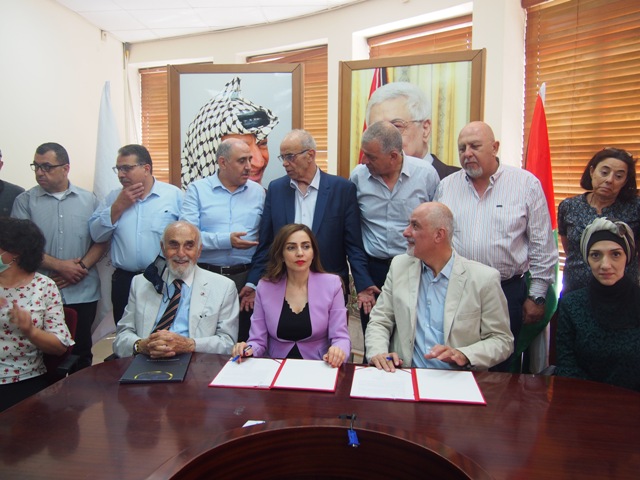 14/06/2020
The agreement was signed between Welfare Association and Sheikh Amre Arafat Foundation (the incubator for the Nablus Image Initiative) to establish AlBayyara Park on top of Eibal Mountain in Nablus.
Welfare Association was represented by the Director General Mrs. Yara Al-Salem, and Eng. Naseer Arafat, Chairman of the Administrative Board of Sheikh Amr Arafat Foundation, in the presence of Nablus Mayor Eng. Sameeh Tubaila, and a number of council members, Mr. Munib Al-Masry, Honorary President of the Welfare Association, Mr. Nejad Ghannam, Businessman Zahi Anabtawi, representatives of the "Nablus Image" initiative, and members of the Arafat Foundation.
Mayor Tubaila said that the municipality support such project, allocated a piece of land owned by the municipality for this purpose. He added that the aim is to increase green areas in the city and develop its urban landscape. Mr. Tubaila expressed his gratitude to the Welfare Association and Nablus Image initiative who contributed to the development of the city in various fields.
Dr. Makram Abbas, a council member, indicated the municipal council's interest in all community initiatives that contribute to the development of the urban landscape of the city, and the development of public parks for citizens. Mr. Iyad Anabtawi stated that the principle of partnership with community participation was the motivation and catalyst for the completion of this project.
For her part, Mrs. Yara Al-Salem expressed thanks and appreciation for all partners involved in this project, tressing that the Cooperation Institution will continue for serving the Palestinian community and increase special grants to support various vital sectors.
For his part, Eng. Naseer Arafat appreciated the great efforts made by the members of the Nablus Image Initiative for their initiative to establish a park to develop Al-Sariyah site, thanking the Welfare Association and Nablus Municipality for such generous contribution.
Eng. Zahi Anabtawi, Chairman of the Board of Directors of Al Arz Company and a representative of the donors said that the contribution of the donors comes within the social responsibility that all those who participated in supporting this project, and in terms of its national symbolism and societal importance.