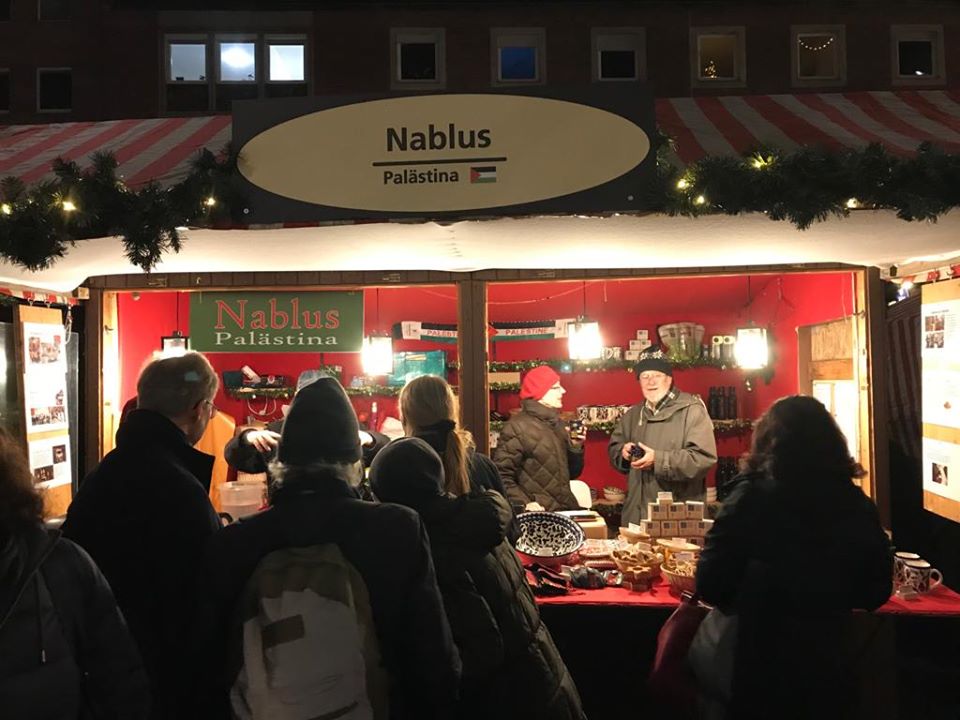 21/12/2019
With the end of each calendar year, many major European and American cities organize open markets to display and sell many products, as these markets bring millions of shoppers from around the world as part of the traditions of celebrating Christmas.
As of beginning of December this year 2019, the city of Nuremberg of which had a cooperative agreement with Nablus, has opened the glorious Christmas market reflecting friendship and solidarity with Nablus, included a special booth for exhibiting and selling many Nablus and Palestinian tradition products such as hand embroideries made by women of the city, food products in various Types, especially sweets, thyme, olive oil, pickles, olive oil soap, and other products that the Nablus-Nuremberg Friendship Association buys from Nablus and sells them at the designated corner in the market.
Nablus booth is being demonstrated by a general view of Nablus city, and being supervised by a group of German volunteers from the members of Nablus-Nuremberg Friendship Association, including Dr. Paul Browne, president of the association, and its members, Prof. Wolfgang Mayer and Rami Al-Masri, who coordinate the friendship between the two cities. The value of profits is to be allocated for women embroidery workers, while excess fund is to be allocated for supporting the INNA initiatives in Nablus.
According to a press report prepared and published by Deutsche Welle news channel (DW) on the Internet, more than two million people from all over the world visit this market, which covers an area of more than five thousand square meters, and includes more than two hundred booths.

More than eight thousand kilometers away, and similar to its German counterpart, the city of Boulder in the state of Colorado organizes a similar Christmas Market. The Nablus-Boulder Friendship Association has its own booth within this market, which includes many Nablus and Palestinian products that are increasingly popular among Boulder residents, which is the only American city that has had twinning ties with Nablus since 2017.
The aim of such activities, which are carried out in direct coordination with Nablus municipality and other city institutions, is to spread awareness among the residents of these cities about the Palestinian issue, and to expose the culture and civilization of the Palestinian people that is threatened by the specter of deformation and extinction due to the Israeli occupation