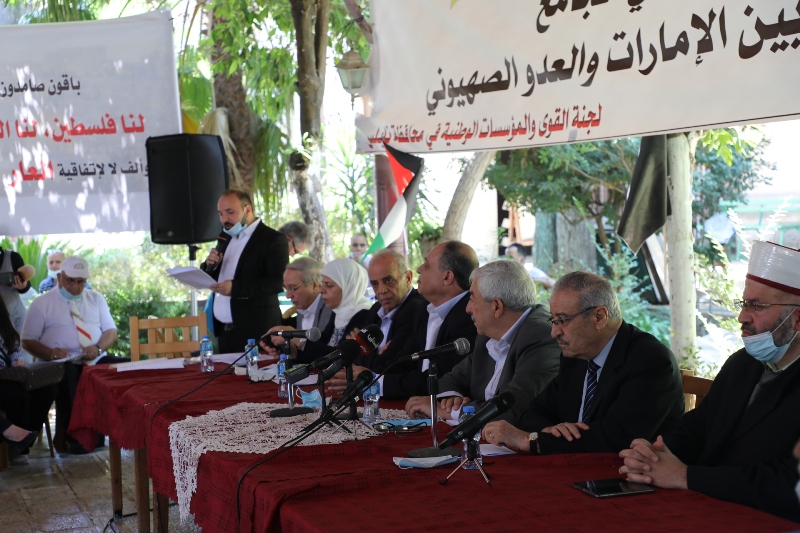 16/08/2020
Eng. Tubaila in his speech "Steadfastness and unity behind our legitimate leadership, headed by President Mahmoud Abbas is our sole attitude"
Nablus Municipal Library hosted the "Inclusive National Conference Against the Shame Agreement of between United Arab Emirates and the Zionist Enemy," called for, by the National Forces and Institutions Committee in Nablus Governorate. The event was attended by a group of local citizens and members of Municipal Council, Eng. Adly Yaish, Dr. Saher Dweikat, and Mrs. Samah Al-Kharouf. A number of speakers participated in this conference, most notably Major General Mahmoud Al-Aloul, Deputy Commander- of (Fatah) Movement, Professor Tayseer Khaled, member of the Executive Committee of the PLO, Mrs. Dalal Salama, member of the Fatah Central Committee of PLO, and General Ibrahim Ramadan, Governor of Nablus.
Eng. Sameeh Tubaila, mayor of Nablus, stated that our people will remain steadfasting and united behind their legitimate leadership represented by the PLO, headed by President Mahmoud Abbas. Tubaila pointed out that, no party can override or cancel the legitimate rights of the Palestinian people, which are guaranteed by international laws and covenants.
Referring to the recent normalization agreement between the UAE and Israel, Tubila said that the Palestinian issue is the first issue of Arabs, prominent and decent people in the world, and that it cannot be subject to the principle of bargains and deals in any way. Tubaila sent a message to the people of Emirates, for whom "we have all love, and we are fully aware that the Palestinian cause stays in their hearts. We were and will remain brothers with one history and one concern."